Be School-Ready! Join Ororama Back-to-school Sale 2017!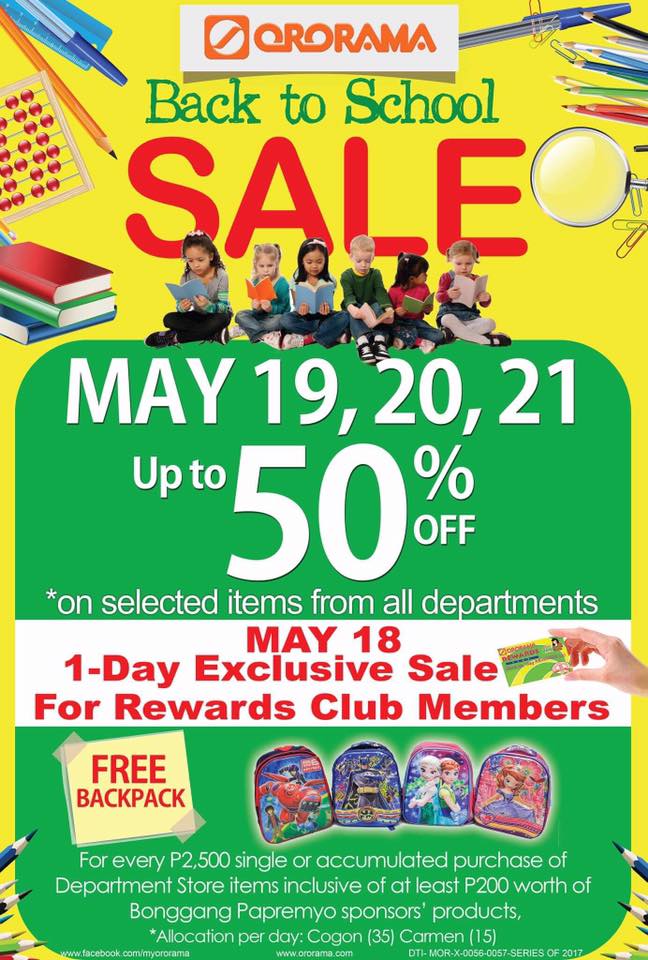 Kagay-anon students! A few more weeks and it will already be the month of June. Are you excited? We bet you are! After two months of enjoying your summer vacation, it's definitely time to reunite with your classmates and share your summer stories.
But apart from being reunited with your classmates and teachers and starting a new semester this June, another great thing about getting back to school is shopping for your school stuff. Of course, everybody gets excited about the idea of buying new notebooks, arts and craft supplies, and backpacks.
But here's greater news!
Kagay-anon students don't have to wait for June to complete their school stuff because Ororama Shopping Center has just announced that they are holding a back-to-school sale this May 2017. Yes, you've read that right! A back-to-school sale is just about to happen at your favorite shopping center in Cagayan de Oro!
Presenting Ororama's Back-to-School Sale!
This coming May 19, 20, and 21, Ororama Shopping Center will be holding a back-to-school sale in all its branches here in Cagayan de Oro City. Ororama is offering discounts of up to 50%! And guess what! This 50% discount is not just applicable to Ororama's school supplies department but for all departments.
So, even if you are not a student, consider visiting Ororama on these dates to avail of awesome discounts on selected items.
Apart from that, Ororama is also giving away a free backpack for every PHP 2,500.00 single or accumulated purchase of department store items, inclusive of at least PHP 200.00 worth of Bonggang Papremyo products. But if you want to take home a free backpack, be sure to visit Ororama earlier because there will be only 35 customers who can avail of this promo at Ororama Cogon per day; in Ororama Carmen, 15 customers can take home the freebie backpack per day.
So what are you waiting for mga Kagay-anons? Visit Ororama Shopping Center now and enjoy their back-to-school sale this coming May 19-21. Happy shopping!
To get updates on amazing promotions and discounts at Ororama, like us on Facebook and follow us on Instagram.