Ororama's 2017 Rewards Club Partners
It's an exciting new year and with it comes exciting treats from Ororama Chain of Stores! Ororama's Rewards Club has been around for quite a long while, and with it, shoppers earn their way to prizes and premium items up for grabs through points accumulated with their shopping sprees; but there's more to the Rewards Club than that!
Presenting then the Ororama Rewards Club Partners! Ororama has partnered up with a bunch of interesting and exciting establishments in the city, ranging from delicious restaurants to wonderful spas and salons, giving Ororama Rewards Club members a more rewarding experience with their special discounts. Check out the details below and know where you can avail of discounts around the city, thanks to the Ororama Rewards Club: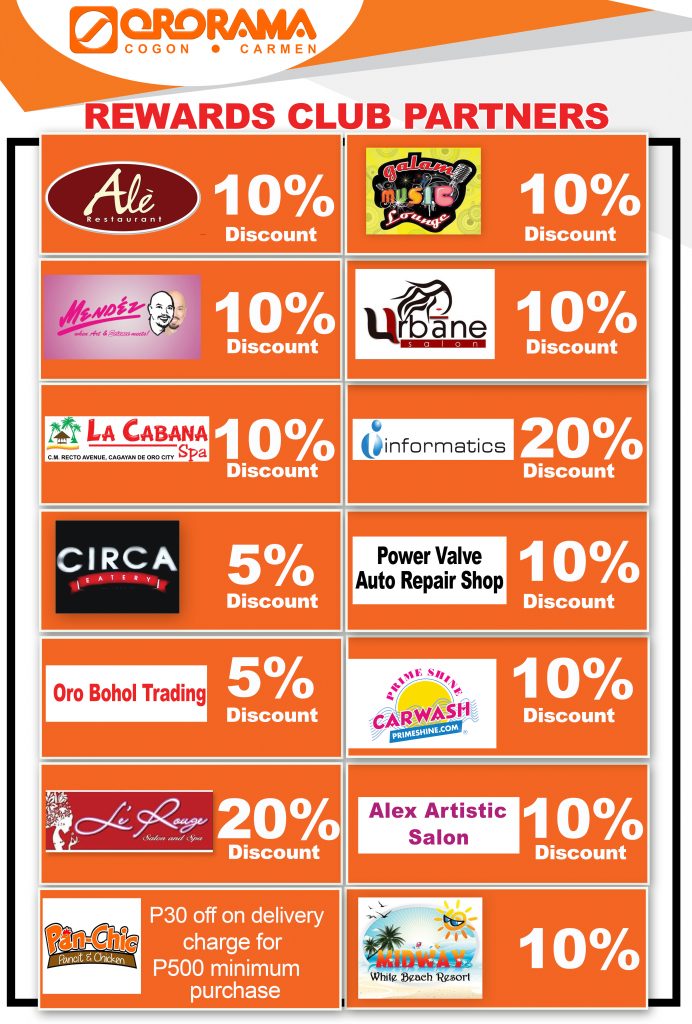 And there you have it folks! For the Rewards Club members, make your way to these establishments and enjoy the discount courtesy of Ororama Chain of Stores. Want to become a Rewards Club member? Why, it's simply and easy to do so! To get a card:
No purchase required, simply pay an amount of Php50 at the counter and forward your receipt at the Redemption Booth.
Kindly fill out the form given by the redemption clerk. Customers from the Cogon branch may wait for a couple of minutes to get their card. For Carmen and TLP branches, cards will be available a week after registration.
Upon receipt of your card, it will be automatically activated and can be used when you purchase.
For more info on the points system on the Rewards Club, visit: https://www.ororama.com/about-us/rewards-club/