The Best Summer Beachwear Trends This 2017
Summertime is here and we can't help but feel excited to plan out the most amazing beach escapade for the season. The beach has always been the most idyllic spot to spend summer vacations. The ambiance is tranquil, the view is scenic, and its azure water is the perfect way to beat the summer heat.
But while you are planning your summer escapade, make sure that you also take the time to update your beach wardrobe by checking websites that share everything that you need to know about the trendiest summer beachwear this 2017.
It is always important to stay fashionable wherever you are going, so we've gathered a list of the best swimwear trends that you need to have this summer season. Are you ready? Here they are:
One-Piece Swimwear
Check fashion tabloids, websites, and even Instagram, and you'll instantly notice that one-piece swimwear is getting more popular than ever. It's more comfortable to wear than two-piece bikinis as it bares less skin and offers more support than any other bikini types.
Currently, there are plenty of variations of one-piece swimwear that are getting trendy including frongs, strappy one-piece beachwear, slingshots, and keyholes.
High-Leg Swimwear
Also known as the "frong," the high-leg swimwear is currently a rising beachwear trend as well. The frong swimwear, a portmanteau of the words front and thong, features typical one-piece bikini but bares more hipbone. Although this swimwear is trending recently, it is actually a throwback trend. Frongs became fashionable back in the 80s, and today, they are coming back again and we can't help but love them.
Monokini
Monokini is a variety of one-piece swimwear which features show-stopping cutouts that will surely help you flaunt the curves you have been working on so badly. And since it is still technically a one-piece beachwear, you have nothing to worry about the coverage.
Monokinis nowadays are becoming a high fashion statement with sexy cutouts to show off your body. Celebrities that are fond of monokini are Rihanna, Kylie and Kendall Jenner, Mariah Carey, and Paris Hilton. Join the craze and wear the sassiest monokini you can find!
Off the Shoulder Bikini Top
It is not a secret that off shoulder dresses are popular nowadays, and if you are particularly in love with this trend, then why not take it with you to the beach by wearing an off shoulder bikini top? Put your toned shoulders on display with this fabulous swimwear. It's absolutely the best outfit for a glamorous beach OOTD.
High-Waisted Bikini
And if you think that high-waisted beachwear is already out in the fashion game, you are definitely wrong. It is still super trendy! High-waisted bikini flaunts your curves even without trying so hard. You get an awesome coverage and support with what you are wearing and at the same time get to show off your drop-dead beach body.
Stripes, Stripes, Stripes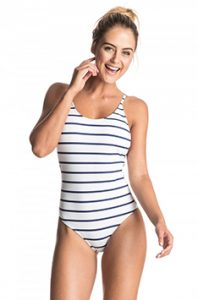 With the 70s and 80s fashion trends getting popular again, stripes have also made a quick comeback to complete the retro vibe this summer season. Go stripes with your beachwear now!
Tankini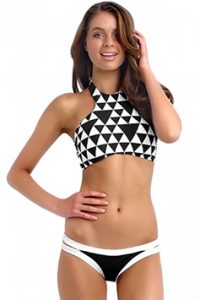 The tankini was first introduced by Anne Cole, AKA the godmother of swimwear. It's considered by a lot of women as the friendliest swimwear ever. And as fashion changes, tankini variations nowadays have also geared up. For instance, halter tankinis are so trendy today. They are perfect for any body type and offer the best coverage for you to enjoy the beach without worrying about wardrobe mishaps.
Metallic One-Piece Swimwear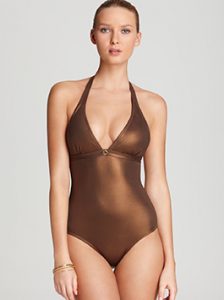 One-piece swimwear with metallic colors is also hot today. It makes you stand out at the beach without even trying to do so.
Want to level up your Insta feed goals? Why not wear a metallic one-piece swimwear!
Neoprene Swimsuit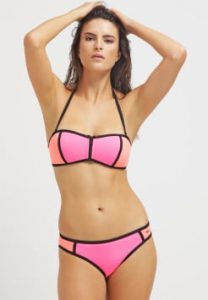 Who says the neoprene swimsuit isn't fashionable? This surfer fabric is undoubtedly a perfect material for creating beautiful and colorful bikini designs that will totally make you feel excited for the beach and for your OOTDs on Instagram!
Floral Prints
Floral-printed swimwear never goes out of style. As a matter of fact, it just keeps showing the top list of popular swimwear types, which means that people just love wearing them.
Velvet Swimwear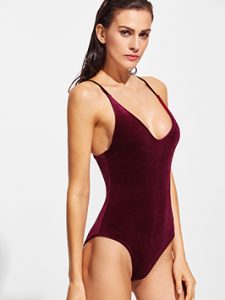 And last, but definitely not the least, have you ever heard of velvet swimwear? Apparently, this beachwear has made headlines on the Internet after first introduced as a fashion trend. It's a minimalist one-piece swimwear that is made from velvet and beach fashionistas are absolutely loving it!
All these can be had at the company that has set the malling trend in the city so get your summer wardrobe now at Ororama Department Store! Don't forget to like us on Facebook and tag us with your amazing summer wears on Instagram.